Screenshots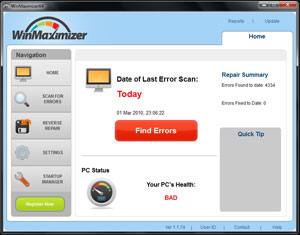 System Overview
Description
WinMaximizer's main dashboard gives you a complete overview of your system's health status and the date of your last optimization. The gauge at the bottom of the window will indicate your PC's current health to let you know if it's time to run another scan.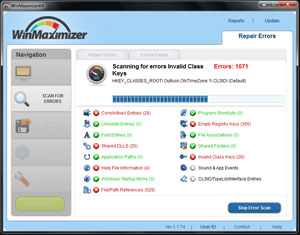 Real-Time Scanning
Description
This is a real-time view of WinMaximizer scanning your system for 15 different categories of system errors. This comprehensive scan scours your system for any problems that might be slowing down your system performance.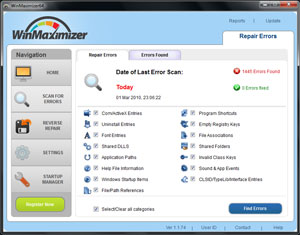 Error Search Selection
Description
Before running your Error Search, you can select which of the 15 categories of possible PC errors you would like to scan. By default, WinMaximizer will scan all 15 categories to ensure that your system does not have any hidden errors that could be hindering maximum PC performance. The default selection is the recommended setting.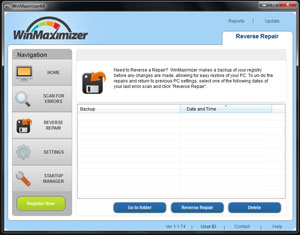 Restore From Backup
Description
Before you run an error search, WinMaximizer automatically creates a backup of your Windows registry (the file which holds all of the settings for your PC) to ensure that you can easily restore your PC in a few clicks in case something goes wrong.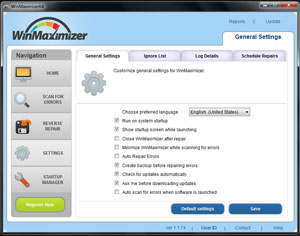 Settings Menu
Description
One of the best features of WinMaximizer is the ability to customize how the program runs. You can choose from a variety of settings including whether or not to run automatic error searches, starting the program when Windows starts-up, and even whether or not you would you like the program to check for updates automatically. WinMaximizer works around your personal preferences.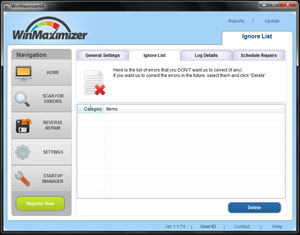 Ignore List
Description
As a part of the flexibility of WinMaximizer, you can choose to have certain items "ignored" for repair. This is an advanced feature, and only recommended for those who have substantial computer knowledge and experience. We always recommend repairing all of the errors that WinMaximizer finds in our to maximize your PC performance.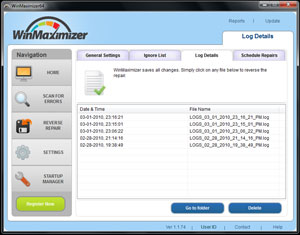 Log Details
Description
For those HIGHLY-advanced users out there, WinMaximizer gives you the ability to view the log files of any repair you've complete in the past. The log gives full details about which errors were fixed and stores them by date and time of scan.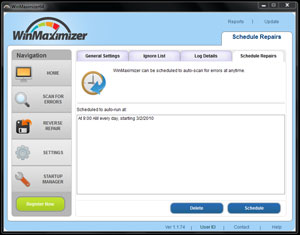 Schedule Repairs
Description
WinMaximizer has the ability to work around your schedule. Within the Schedule Repairs menus, you can select a schedule for WinMaximizer to scan for errors automatically! Want to run scans on Fridays at 12:00AM? Tuesdays, Thursdays, and Saturdays every 2 hours? No problem!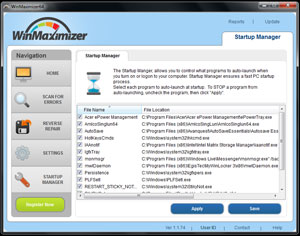 Startup Manager
Description
Probably the biggest factor hindering the performance of you PC is the amount of programs that launch at Windows startup. Do you have too many icons in your system tray? If so, that's probably one of the main reasons why your PC is running slow. WinMaximizer gives you the ability to disable any programs you want to stop running at startup.
Get WinMaximizer now
for optimal PC performance.